PinDuoDuo (PDD) rang the Nasdaq bell last week and ended day 1 trading at a valuation of ~$30 billion. As an early investor supporting the Company, we witnessed first hand what they did to achieve this amazing milestone. Below is a summary on what PDD is and how they become a commerce giant.
---
The incredible rise of Pinduoduo, China's newest force in e-commerce
From Alibaba to JD, China is not short of e-commerce powerhouses. Although the country's e-commerce market is highly consolidated, it's not impossible for startup teams to crack this market as long as they are solving the right problems for the right group of customers.
Chinese social e-commerce platform Pinduoduo just proved this. The Shanghai-based company just went public raising $1.6 billion through a U.S. IPO this week, which stands out as one of the largest deals of the year. Excitement is quickly intensifying surround the company, which claims 195 million monthly users and has managed to become successful within China's highly competitive e-commerce market inside just three years.
What is Pinduoduo and what has it done right?
Like Alibaba's Taobao and rival JD.com, Pinduoduo is an e-commerce platform that offers a wide range of products from daily groceries to home appliances. Pinduoduo's twist lies in its integration of social components into the traditional online shopping process, which the company describes as the "team purchase" model.
By sharing Pinduoduo's product information on social networks such as WeChat and QQ, users can invite their contacts to form a shopping team to get a lower price for their purchase. The mechanism keeps the users motivated and better hooked for a more interactive and dynamic shopping experience. Coupled with other incentives such as cash, coupon, lottery and free products, Pinduoduo manages to acquire users at a very low cost. Combined with the extra satisfaction of scoring a good deal with your friends as a team, Pinduoduo soon became a viral sensation in China.
Extremely low prices are another compelling attraction of Pinduoduo. The discount is usually up to 90 percent, including everything from RMB 10 ($1.50) bed sheets to RMB 1,000 ($150) PCs. But the bestsellers are daily items at unbelievable low prices. More than 6.4 million units of tissue paper were sold at RMB 12.9 ($1.90) for 10 boxes and 4.8 million umbrellas were purchased at RMB 10.3 ($1.51) apiece.
The company's bulk-selling model easily creates huge orders for the sellers and leaves them more room to cut prices. At the same time, Pinduoduo's app is designed to facilitate this, an expert explained to local media: "Alibaba Taobao's interface is search-based and centered on multiple product displays, while Pinduoduo's is more similar to a news feed and thus gives more exposure to a single product and easy to create "爆款" [baokuan, meaning viral items]. Taobao has more products listed, but Pinduoduo put its focus on fewer bestsellers that attract more buyers."
Pinduoduo's C2B model allows it to ship directly from the manufacturers eliminates layers of distributors, not only reduces the price tag for buyers but also raises the profit of manufacturers. This approach is particularly effective for the sales of perishable agricultural and fresh products, where the speed for matching supply and demand is critical.
Lesser-known brands were chosen over famous brands to erase any premium that comes from branding. Additionally, the costs for advertising and marketing are also lowered through user sharing to social media. The approach is both cost-saving and effective. Through social sharing, users are sending the product information precisely to friends and groups that may have similar income and consumption preferences. Viral marketing is a more clever way to build the identity of all the lesser-known brands on its platform. Financially, the platform could even out part of discounts with less marketing budgets.
Price and social features are not only the only path to Pinduoduo's meteoric rise, and spotting the right user profile is the last piece to the puzzle.
Operation director of Chinese mobile e-commerce platform Chuchujie, Yang Lin shot to the core of the problem in an interview with local media: "Taobao has over 500 million users while WeChat has over 1 billion, the gigantic missing group between two of China's giant apps is distributed in third- or lower-tier cities, mostly senior citizens. This group, which only recently came online and depends on the ubiquitous WeChat as the chief source of information, is the target users of Pinduoduo."
Data from research institute Jiguang shows that users from third- and lower-tier cities account for around 65 percent of Pinduoduo's total user base, while JD's users in first plus second-tier cities and the rest of China were half-and-half. Additionally, females account for 70 percent of Pinduoduo's user base. They are responsible for family purchases and more price sensitive. This guarantees more active sharing and purchases.
Consumption upgrade, a trend in which affluent Chinese customers are increasingly willing to pay for quality, has dominated China's e-commerce industry in the past few years. Taobao and JD's globalization initiatives to bring overseas quality products, the boom of cross-border e-commerce sites like Red and NetEase Yanxuan and Kaola are all based on the consumption-upgrading backdrop.
But the growth of Pinduoduo has sparked an argument focusing on whether the platform represents consumption downgrading. Maybe consumption upgrading or degrading isn't the key problem. It is just one more piece of evidence for how big and segmented the Chinese market can be. Rising income may give part of Chinese urban citizens the freedom to vote for quality, but RMB 1 difference in price tag may be enough of an incentive for their countryside counterparts, who have been more neglected by e-commerce so far.
Cost performance is still the most important factor to consider for consumers. A higher price tag does not necessarily represent the better quality or vice versa. The huge potential in this often-overlooked market is luring more competitors. Taobao launched Taobao Tejia, a dedicated app for China's low-end users.
Pinduoduo didn't invent the social e-commerce model. Groupon pioneered the group-buying concept years ago. But it is succeeding thanks to a new ecosystem consisting of super app WeChat, mobile payment infrastructure, and mobile-first users.
Pinduoduo's history and major milestones
Founded in September 2015, Pinduoduo is the fourth startup of Colin Huang, an ex-Googler who once worked on early search algorithms for e-commerce. His previous startups include consumer electronics e-commerce site Ouku.com, Leqi, e-commerce platform marketing agent service and a WeChat-based role-playing game company.
With experiences in both e-commerce and gaming, Huang founded Pinduoduo with a vision to combine the secret success recipe of both Alibaba and Tencent, the two Chinese internet giants known for their e-commerce and gaming /social dominance respectively. "They don't really understand how the other makes money," Huang said to Bloomberg.
Huang seems to be right about how the two industries can work together. Pinduoduo's annual GMV (gross merchandise volume) surpassed RMB100 billion ($14.7 billion) in 2017, that's around two years since its inception. To hit the same milestone, Taobao took five years, VIP.com took eight years and JD ten years. Pinduoduo now claims more than 343.6 million active buyers with an annual GMV of RMB 262.1 billion, or $38.5 billion.
A huge turning point occurred in the third quarter of 2017 when the weekly active rate, penetration rate, and open rate of the Pinduoduo app all surpassed those of JD. Compared to the previous year, it reaches up to 1,000 percent year on year growth according to data from Jiguang.
Steep growth trajectory lured financial backings. In 2015, Huang launched Pinhaohuo, a social commerce platform for fruits, with the team from his second startup Leqi. His gaming startup incubated Pinduoduo.
Four months after Pinduoduo received undisclosed A round from IDG and Lightspeed China in March 2016, the company secured over $110 million in Series B financing four months later from Baoyan Partners, New Horizon Capital, Tencent, and others. In April 2018, Pinduoduo completed a new round of financing raising $3 billion at a valuation of nearly $15 billion. Given Pinduoduo's WeChat-based ecosystem, Tencent joined the round as a returning investor.
Given the history between Pinduoduo and Pinhaohuo, then of the two largest players in the social e-commerce sector, the two companies merged to form one dominator.
Another counterfeit heaven in China?
"If you close your eyes and visualize the next stage for Pinduoduo, it would be a combination of 'Costco' and 'Disneyland', driven by a distributed network of intelligence agents," Huang wrote in the IPO prospectus. Huang's comparison was thus interpreted as a combination of "value for money" and entertainment, but many are questioning whether or to what degree Pinduoduo can live up to the founder's expectation.
Although Pinduoduo claims to have several channels to lower product prices, increasing product quality and counterfeit complaints still raise concerns for a possible low-cost and low-quality association. The percentage of complains on Pinduoduo is 17.87 percent, and the user satisfaction rating is only 1 star, according to the 2017 National User Satisfaction Survey of Major E-commerce Platforms released by the China E-Commerce Research Center. Complaints mainly target at the problems of poor quality, slow delivery, misleading ads, etc.
In addition to mounting domestic complaints, the Chinese shopping app was hit by a trademark infringement lawsuit in the US, shortly after filing for a US IPO. Alongside Alibaba and JD's efforts to remove fake goods on their platforms, fake goods are flooding to emerging e-commerce platforms like Pinduoduo and Weishang, according to Alibaba.
As Pinduoduo gets into life as a public company, the firm is following the e-commerce giants in cleaning up the platform. According to the company's annual consumer rights protection report for 2017, it has taken down 10.7 million problematic listings, blocked 40 million suspicious external links, representing 95 percent of the fake good sellers from the platform. The company set up an RMB 150 million ($22 million) fund to deal with after-sales disputes.
But tightening regulation is causing more friction between Pinduoduo and its merchants on the platform. In June, fourteen store owners who sell products on Pinduoduo protested under the company's office building claiming that Pinduoduo conducted improper product-quality checks which damaged the owners' rights. Company founder Huang insisted Pinduoduo's decision and punishment of the owners is just and fair.
Many also questioned the validity of entertaining features in Pinduoduo's value proposition. "We have observed that a few users find shopping on Pinduoduo to be very entertaining, which is attributable to its extremely low pricing and interaction among Weixin users," according to research institute 86 Research.
IPO and beyond
Pinduoduo went public on NASDAQ market on July 26 and raised more than $1.6 billion with a valuation of $60 billion. However, shareholders should still be concerned about the company's fundamentals
Financially, the company is still in the red. Pinduoduo suffered a net loss of RMB 292 million ($43 million) and RMB 525.1 million ($77 million) in 2016 and 2017, respectively. Its net losses reached RMB 201 million ($30 million) in the first quarter of this year. The net loss is expected to be widened, mainly attributable to investments in branding and ads. Over 88.4 percent of Pinduoduo's RMB 1.2 billion ($180 million) Q1 revenue was spent on marketing. This could be translated as a sign of difficult traffic acquisition.
The most typical Pinduoduo users are price sensitive women that reside in low tier cities. Merchants are selling at a low price to appeal to this group. But how to maintain these users and its growth momentum is a big challenge for Pinduoduo now given rising product quality complaints.
"The retention rate is a big challenge of Pinduoduo, implying potential GMV slow down. Pinduoduo will have difficulty in upgrading to a marketplace of premium products because of its user demographics and brand image," according to 86 Research.
Pinduoduo: a Close Look at the Fastest Growing E-commerce App in China
Chinese "dama" (literally, big mamas) are budget-savvy shoppers most eager to snap up a good deal. They do most of the shopping for the family, and fortunately, they know just the place to score bargain-basement prices on everyday items, with discounts as deep as 90% off (look for overripe fruits that don't last another day).
On one condition: whip up enough friends on WeChat to order the items together in bulk, directly from the manufacturer. After all, the deal is so good, it deserves a spot on everyone's Moments (the equivalent of a Facebook user's feed).
And the place to find these deals is Pinduoduo.
On the 9th of December 2017, Cheetah Mobile published a ranking of e-commerce Apps in China. Taobao was number #1. And right behind, the number #2, was Pinduoduo.
Pinduoduo is the leading Chinese App for social e-commerce, and the fastest growing App in the history of the Chinese Internet. Let's take a close look at it.
Pinduoduo also went through their IPO in July raising $1.63 billion.
Here are some of the highlights:
Pinduoduo went above 100 billion RMB per year of merchandise sold on the platform 2 years after its launch… it took 10 years for JD.com to get there
Monthly Active Users (MAU's) reached 195 million in June 2018: that's 31% of Alibaba's MAU's
Pinduoduo users are predominantly female, living in Tier 3+ cities
The average order on Pinduoduo is 6 USD, against 30 USD on Taobao/Tmall and 60 USD on JD.com
How fast is Pinduoduo growing?
Pinduoduo has seen explosive growth since its launch in 2015, becoming one of the largest e-commerce Apps in China.
Can we say Pinduoduo out-Grouponed Groupon? The shop-with-friends app combines a group-buying strategy with cheap products and social media. It is now the fastest growing e-commerce platform with 13.85% YoY growth.
Gross Merchandise Volume (GMV) has been exploding on Pinduoduo reaching 262 billion RMB in June 2018, just before the IPO.
The usage rate of the platform among Chinese Internet users from under 2% to 19.4% over the course of 2018 (this leaves it right behind JD at 20.6%, but still far behind Taobao with 53.3% usage rate).
The number of users has also been steadily growing. In a bit more than a year, the platform went from 15 million users (3% of the Alibaba user base at the time) to 195 million users (representing 31% of monthly active users of the total Alibaba ecosystem)
Pinduoduo also benefits from the best retention rate (7 days after APP install) from all Chinese e-commerce platforms.
Users changing phones are however more likely to install Taobao or JD than Pinduoduo.
Pinduoduo caters to a very specific user demographic: they are predominantly female (70.1%) and living in 3rd tier cities or smaller (58.8%).
The users of Pinduoduo are also less educated than Taobao users: 42.4% of them don't have any college degree, against 30.2% in the case of Taobao.
Reporting 114 million monthly active users in January 2018, Pinduoduo is behind only Taobao (425 million) and JD (145 million), boasting a 300 million-strong user base, with 65% of users coming from third-tier cities and beyond.
In fact, a large proportion of their users are female above 40 years old in smaller Chinese cities.


Purchasing behavior
Among Monthly Active Users, the majority of users who made a purchase are between 25 and 40 years old (63.3%).
Young users below 24 years old are more likely to have used the platform but not made a purchase (they make up 43% of users who didn't buy anything)
Female users are also more likely to be active buyers: they make up MAU's 67.8% of users who made a purchase on Pinduoduo.
Students on the App are also more likely to use it without purchasing: they make up for 19.1% of non-purchasing users, but only 9.3% of active buyers.
Overall, Pinduoduo users are looking for a bargain: they declare being more likely to buy an expensive product that is heavily discounted, rather than cheaper products without a discount.
The group-buying feature of Pinduoduo is by far the most important incentives for people to use the App, both for price discounts and recommendations.For the most part, users are buying products that they used to buy on Taobao (41.3%).
There is however also a significant percentage of users (40.9%) who are buying products on impulse that they didn't plan to buy otherwise.
The power of Pinduoduo mostly comes from its social features: only 88.8% of active Pinduoduo users helped promote the platform in some way, either via sharing links or actively promoting products.
Average orders on Pinduoduo are, as one might expect, low: 10 times smaller than the average orders on JD.com.Users remain more active on Taobao than on Pinduoduo, both in terms of the number of sessions and time spent on the App.
Taobao/JD and Pinduoduo have completely different user behaviors: 93.1% of Taobao/JD users find products through keyword search, while most of Pinduoduo users are looking at which special deals are available every day.
This is made possible by the AI behind Pinduoduo, which is pushing the right products to the right users based on product popularity and users purchase history.
Pinduoduo is also seen as a more meritocratic system for products: good products which get a lot of attention can find their way to the top of the rankings even if they are not coming from large brands/stores.
A de facto substitute for Taobao?
Chinese users have a lot of options to shop around. It is interesting to note that a subtle relationship exists between Pinduoduo and Taobao, Alibaba's hugely popular marketplace.
Pinduoduo users are mostly displaced from Taobao and other platforms: they are for the most part (86.3%) users who are usually used to buying online.
50% of the users that uninstalled the Taobao App installed Pinduoduo a month later. Pinduoduo is by far the most common substitute for Taobao.
On the other hand, 78% of the Pinduoduo uninstalls are followed by Taobao app downloads in the following month, according to QuestMobile's data for November and December 2017. Taobao is still leading the fight.
Pursuing a significant but often overlooked market
The lure of Pinduoduo is not just the incredibly low prices, but the satisfaction of getting a good deal, scoring massive discounts. This hit home with the low-income crowd in China's remoter towns and villages.
As e-commerce giants compete for affluent customers in urban centers in an era of consumption upgrading, Pinduoduo focused on sourcing fresh produce from local growers to build an initial user base in its early days. Prices are cheaper, as its C2B model sells in bulk and eliminates layers of distributors by connecting consumers with farmers directly.
The platform scaled up quickly and has since expanded the product range to include essentially all the household items you can think of, groceries, fashion, beauty, and electronics.
Pinduoduo claims that over the course of two years, about 1,000 factories that produce to sell on the platform.
Focusing on producing just a few SKUs in colossal quantities, these "Pin Factories" (拼工厂) are able to achieve and handle order volumes that have grown exponentially.
An impressive example is Chinese tissue manufacturers CoRou and ZhiHu (also known as Botare), whose factories have collectively completed more than 9,320,000 Pinduoduo orders. That is 261 million packets of tissue!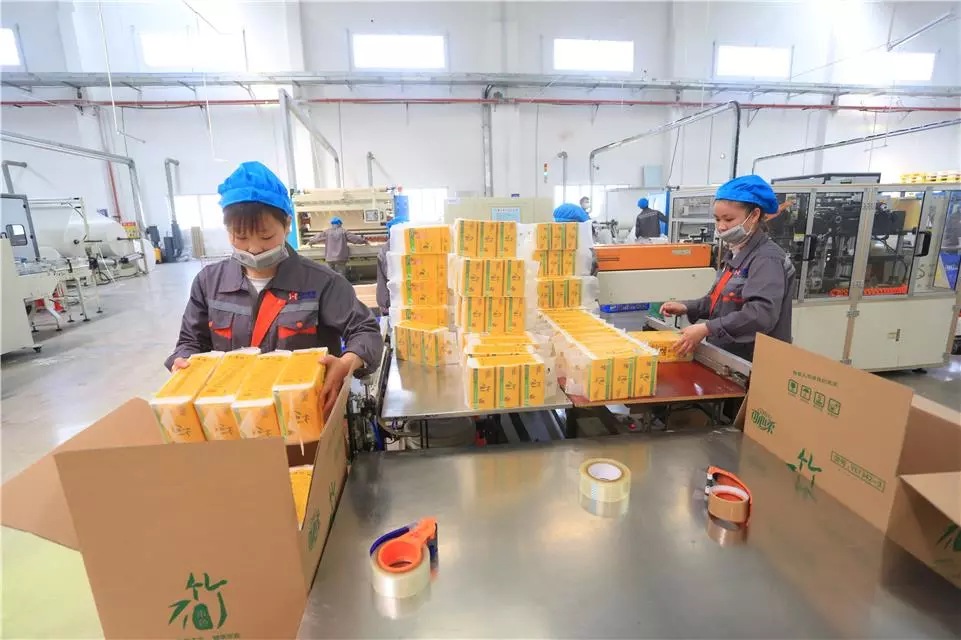 The sheer volume of each group order leaves sellers more room to cut prices, and the incredibly cheap prices attract even more customers, creating a positive e-commerce cycle.
Everyday items come at as low as 90% off.
Farmers feel relieved from the heartbreak of seeing their hard work go to waste as the fruits rot, as they ship fruits off in bulk to Pinduoduo shoppers, who typically get their produce at 60 to 80% off.
Seafood is another hugely popular category, which offers an average 30% to 80% saving.
| | | | |
| --- | --- | --- | --- |
| Fruit | Group Deal Price | Market Price | Discount |
| Oranges from Gongxi | 23.9 | 59.9 | 60% |
| Apples from Yantai | 28.8 | 66 | 57% |
| Pears from Xinjiang | 13.9 | 39.9 | 75% |
| Dragonfruit from Vietnam | 31.8 | 88 | 64% |
The group-deal app is quite sticky to its low-price user base, with an average of 50.7 sessions per week per user last year, according to Cheetah Data.
Pinduoduo is by far the largest APP in China focusing on providing discounts, with a 19.37% penetration rate, against 1.32% for its closest competitor.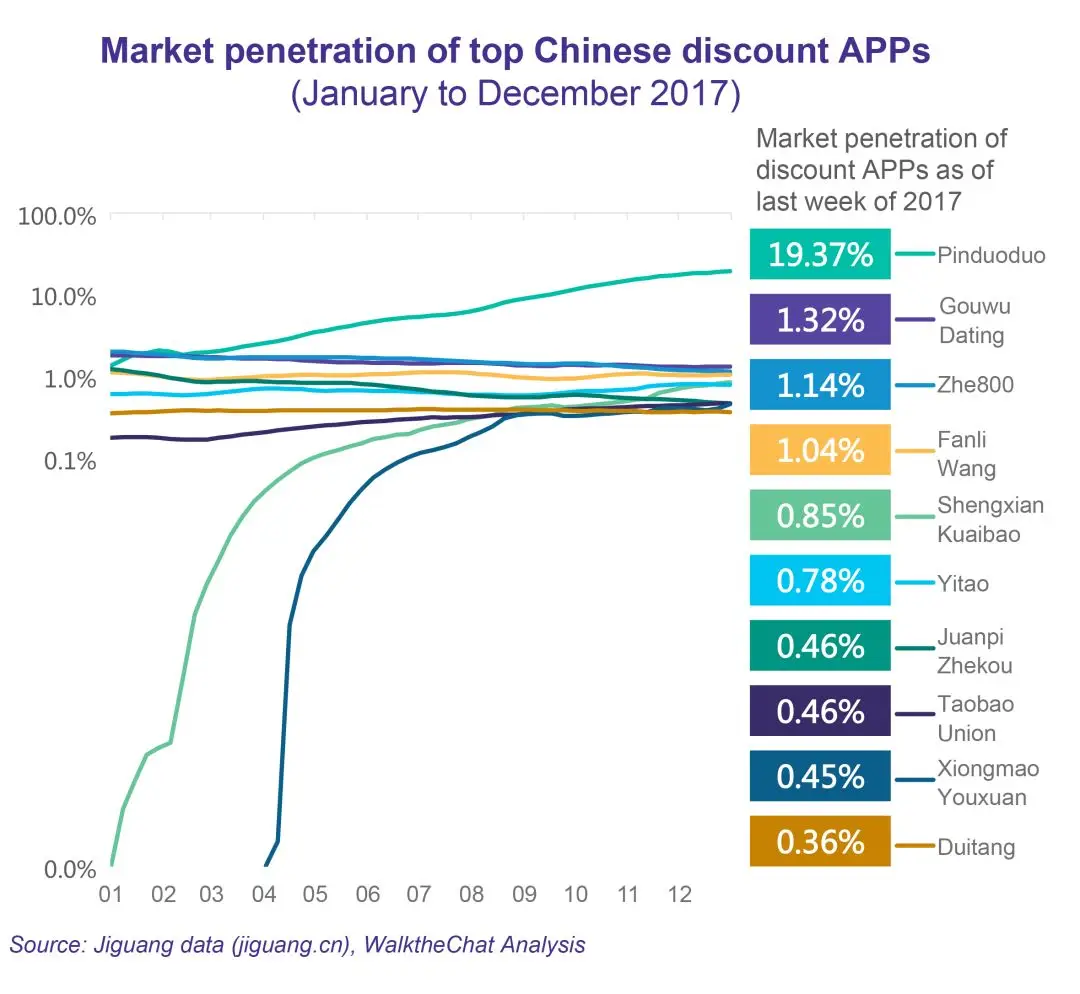 As one might accurately assume, Pinduoduo is not known for quality. Last year alone, the platform took down 10 million problematic listings and set up an RMB 150 million fund to compensate users that reported such issues as shoddy goods, rotten fruits and difficulties in getting refunds.
Pinduoduo features
There are two words that come to mind when thinking of Pinduoduo: addictive and viral.
The App is doing everything to push you to share the App with your friends. And once you did, it does a great job at keeping them hooked. The App combines a bunch of tactics in order to achieve these results.
Group Buying
The core function of the App is Group Buying: each item has an official price and a group-buy discounted price. In order to get the discounted price, I can find another friend to join the group-buy deal, and we'll both get the product shipped to our respective address.
Free products
Cheap products are great. But what about free products? That's just what Pinduoduo offers.
The App offers a range of products for free. You just have to get enough new users to follow the Pinduoduo Official Account, install the App and sign up via WeChat login.
1 App install will get you a small box of candy. 9 App installs will get you 1.3 kg of nuts from the food startup Three Squirrels (三只松鼠). That's the one I went for.
Sure enough, my awesome WeChat friends helped out and installed the App, and on the next day…
This can sound like a crazy strategy, but it's not. The package sells for 99 RMB full price, 79 RMB in group buying. But Three Squirrels makes a heavy margin on this, and most likely only charges Pinduoduo around 20-30 RMB to ship the free product.
That's 3 RMB per high-quality App installs, linked with a WeChat social account. The promotion also leads one person to actually get a delivery, engage with products and share about the experience with friends. This is exactly the kind of strategy that propelled Pinduoduo on the top of the App stores.
Moreover, people might keep scanning the QR code after the free product has been claimed. In my case, 25 friends scanned the QR code trying to help me get the free product: that's a cost of less than 1 RMB per follower for Pinduoduo!
Short term coupons
Pinduoduo offers coupons. That's nothing special in China.
However, Pinduoduo's coupons have exceptionally short durations: usually only 2 hours.
The message is clear: you should not linger around or hesitate. Pinduoduo is a platform where you should buy things, and you should buy them now.
Ask friends to "bargain"
Another way Pinduoduo creates viral incentives is by asking friends to help "bargain" for a cheaper price.
You can share certain products with friends. Each time a friend volunteers to help you "bargain", the price decreases a bit. Eventually, you can get the product for free.
This trick can also seem costly, but it can be worthwhile for the brand. In order to get a cooking pot worth 150 RMB (which in reality might only be worth 50RMB), you'll have to have around 25 friends to log in to the WeChat shop.
And in doing so, you gave strong social proof supporting the brand, by letting your friends know you really care about getting this product.
Red envelopes + Leaderboard
Using cash red envelopes to reward users for inviting friends is another old trick of viral marketing. Pinduoduo rewards users a cash red envelope between 5-20 RMB.
Here again, Pinduoduo takes it a step further. Not only do they reward users, but they also display a leaderboard of the users who made the most money out of inviting friends.
The top user made 2,940 RMB from sharing with 290 friends. Many of us have thousands of WeChat friends, and it's easy to imagine earning similar amounts from sharing on our moments. Suddenly, the incentive that we picture in our mind is not a few RMB, but literally thousands.
Lotteries
One more viral mechanism from Pinduoduo is the use of lotteries. Typically, users have to pay a small entry fee (0.01 RMB) to get into a lottery. For the lottery to be active, they must also invite enough friends to join it within a specific period of time.
If they get enough friends to join, users can then get a chance to win the product for only 0.01 RMB.
This is another marketing trick:
It's not clear how many users in total will join the lottery and what are the chances of winning
The interface tricks the users into thinking this is just another group buy, so they would share the products with friends to reach the group buy number
If you don't win, Pinduoduo will refund the 0.01 RMB along with a coupon to buy more stuff on Pinduoduo
This is a great and cheap way for brands to do marketing without having to invest too much. Although users might only realize it's a lottery trap after they invited 6 friends to join.
Customer service messages
Pinduoduo also makes great use of Customer Service Messages. These messages are customizable messages that can be sent 48 hours after the user followed the account or interacted with it.
Most of the accounts only use these messages for welcome message or customer service requests. But Pinduoduo does much more: they use these messages to continually recommend new products to the user.
Unlike the "Broadcast" messages that are limited (4 per months for service accounts), these messages are unlimited and can be customized for each user. They're the perfect way to make recommendations based on order history.
We received on average 5 messages every 24 hours after subscribing – and these are very visible messages sent from a WeChat Service Account! Moreover, if users click a menu item on the WeChat Official Account (for instance to check order status) the 48 hours window is re-opened and Pinduoduo can keep messaging them.
Automatic payment
The last trick we'd like to mention is the "automatic WeChat payments" that Pinduoduo is using. You might already be using this function if you're using Didi Dache for ride hailing: once you finish a ride, it is automatically billed to your WeChat Payment account without the need for further validation.
That's exactly what Pinduoduo does: the first time you pay, it enables "password-less payments" by default. After this first purchase, you won't have to enter your password anymore and will be able to do one-click payments.
This is an amazing way to increase impulse purchases, which are the bread-and-butter of Pinduoduo.
A brief history of Pinduoduo
January 2014: Pinduoduo was founded by Huang Zheng (黄峥), a former Google employee
September 2015: Pinduoduo receives A round investment from an impressive list of investors, including the former Taobao CEO Sun Tongyu
September 2016: B round of funding of 110 million USD, including Tencent and IDG as investors
December 2017: Cheetah mobile ranks Pinduoduo as #2 e-commerce App
One might wonder what caused such an explosive growth. Besides all of the tricks we mentioned above, Pinduoduo has one specificity: it is doing exceptionally well in smaller cities (Tier 3 and smaller).
64.7% of Pinduoduo users come from Tier 3 cities or smaller, against only 50.1% of users for JD.com. And only 7.6% of Pinduoduo users come from Tier 1 cities.
Moreover, the majority of the Pinduoduo users are female above 40 years old in smaller Chinese cities. These users are extremely price-sensitive, but they make frequent purchase and they are often in control of purchasing for the whole family. These users might not have much experience with e-commerce purchase, but once they learn how (and bring all their friends into the platform) they can bring long term profits to the Pinduoduo: they have high purchasing power, and are continuously using the App.
Conclusion
E-commerce is hyper-competitive, especially so in China. It is important for new players to stand out with unique offerings that attract customers, and Pinduoduo is one such success case, crafting a convergence between social and commerce that discovers and capitalizes on a new source of users in lower-tiered cities.
As internet access in China's rural areas continues to improve, it is likely the bargain-hunting app will sustain growth as its services reach remote areas. It is highly visible in a lower-end demographic area, carving out a niche for itself that thrives with a high-volume trade.
Pinduoduo has experienced a meteoric rise to the top of the Chinese e-commerce landscape over the last 2 years. At the core of its success was a strong emphasis on social commerce, viral marketing & retaining users.
Although this trajectory is very unique, a lot of brands and platforms can take cues from Pinduoduo's success. By applying some of these tactics to your own business, you too can have more users with stronger levels of engagement.
Pinduoduo Integrates Social Networking to Become China's Second Largest Online Shopping App
With consumers increasingly interacting with the digital world via mobile phones and social apps, it's now becoming imperative for brands to leverage the power of social platforms. Social commerce has been something of a buzz recently and Chinese shoppers are always eager to land a good bargain. It's not hard to see why the world's largest e-commerce market is being transformed by the fast-growing app known as Pinduoduo. Pinduoduo is the second most used online shopping app behind Taobao with over 385.5 million monthly active users. The use of super apps as a means to access essential services has become more of a necessity in China. Apps like Xiaohongshu and Pinduoduo have become increasingly popular because they are able to manage the needs of the consumer all in one location.
What is Pinduoduo?
Founded by a former Google engineer in 2015, Pinduoduo is the fastest growing app ever recorded in the history of the Chinese internet. The social e-commerce app allows consumers to find deals on products with the added value of recruiting friends to join in and buy at a discounted price. It also gives customers the ability to make purchases through popular social apps such as WeChat and QQ. Pinduoduo covers major product categories including apparel, mother and childcare products, food and beverage, fresh produce, cosmetics and other personal care items, sports and fitness items as well as auto accessories.
What's even more consumer oriented about the app is that it offers products at up to 20 percent cheaper compared to their market price. That is because Pinduoduo allows customers to buy directly from manufacturers, removing the hassle and additional costs of using a middleman. The app also enhances the consumer journey by adding gaming elements and giving out coupons and rewards.
Purchasing Behavior on Pinduoduo
Pinduoduo caters to a very particular user demographic consisting of predominately females that live in 3rd tier cities. Users are less educated with 42.4% of them not having a college degree. The majority of monthly purchases are between the ages of 25 and 40. Younger users below the age of 24 often use the platform but are less likely to make a purchase. Pinduoduo users are also more likely to buy expensive products with discounts over cheaper products with no discounts at all.
The Pinduoduo Group Buying Concept
The core function of Pinduoduo is the ability to make group purchases. Consumers are encouraged to share product details with family and friends to form a shopping crew to enjoy a more attractive price option available under "team purchase". All product purchases are encouraged under this option but there is also the official individual price option. All products ordered by a certain group are deliverable separately to each member's address.
There are also other buying incentives such as the free-product feature. Some products are sharable with friends who can then bargain for a lower price. Every time a friend bargains for a product, the price will decrease. The user even has the chance to receive a free product if enough friends sign up for the bargain. Giving users the opportunity to invite other buyers drastically increases user engagement, which is what gives Pinduoduo its unique shopping experience. Features such as group buying and free products enable the same function as shopping in real life.
Setting Up Shop on Pinduoduo
The process to start a business on the app is quite simple. There are five items that you need before applying which are a Chinese Business License, an Organization Code Certificate, a Tax Registration Certificate, an Account Opening Certificate and a Chinese phone number. After obtaining the above items, directly apply on their official site and download the app for shop management. It takes about 2 working days for the approval process and once approved, you can open more than one shop with the same business and tax license.
Opportunity for Brands
Considering that Pinduoduo represents a unique target market of mostly low-income households with lower levels of education, there is a still a huge growth potential for the platform to gain even more market share. There is still a large chunk of lower-income households who lack education and experience with digital technology, but the technology gap is continuing to evolve at a rapid pace. The incorporation of group buying has the ability to attract consumers from tier 1 and tier 2 cites who may find an even better deal on Pinduoduo instead of using traditional shopping platforms. Pinduoduo is still finding new and innovative ways to grow, but in the meantime, it has definitely unlocked a market that can be extremely beneficial for brands.
This social e-commerce app provides all the necessary features and added extra functions that attract consumers to shop. It appeals to anyone who is price-sensitive and time-conscious and is just beginning to tap into major cities around China. The app reflects an in-person shopping experience that contributes to the overall value of the platform. It's still early days for the popularized start-up, but we are excited to see what the future holds.
Pinduoduo: The Fastest-Growing E-Commerce Platform In China Has A Neutral Valuation
Summary
PDD is the fastest-growing eCommerce platform in Chinese history, achieving 1/5 and 1/25 of JD and BABA GMV, respectively, in 2.5 years.
Rapid expansion attributed to team purchase model and social sharing elements.
Current take rate is lower than BABA, implying some room for take rate expansion.
Expansion into top-tier cities and competing with BABA and JD might prove to be challenging. Need more clarity around 2018 trajectory from upcoming earnings.
Overall, Neutral given its current valuation at 24x/15x '18E/'19E revenue.
Founded in September 2015, it only took Pinduoduo 2.5 years to become the third largest ecommerce platform in China based on GMV. PDD achieved this by offering products at much lower prices to price-sensitive consumers. Similar to BABA, PDD monetizes through charging commission fees and providing online marketing services on its ecommerce platform.
According to its IPO filings, PDD achieved GMV of ¥141.2b in 2017, which took Alibaba's (NYSE:BABA) Taobao ~5 years (in 2008), JD.com (NASDAQ:JD) ~10 years (in 2013), and Vipshop Holdings (NYSE:VIPS) ~8 years (in 2017). Granted, the internet/mobile internet environment is much more developed now vs. 5-10 years ago in China, but PDD's spectacular growth still looks amazing.
What is more amazing is the growth is not slowing down. For the 12 months ended June 2018, the company's GMV further grew to ¥262.1b, implying a y/y growth of close to 600%, driven by both active buyer y/y growth of 245% and annual spending per active buyer ("ASPAB") y/y growth of 98%.
Despite its fantastic growth, we are cautious about the stock given its valuation at 24x forward E/S multiple on our 2018 revenue estimate of ¥6.9b (300% y/y growth), and 14.7x E/S on 2019 revenue of ¥11.4b (64% y/y), based on our base case scenario.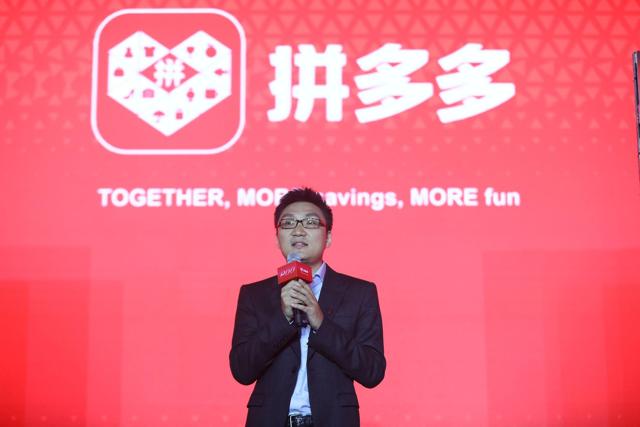 Key Points
GMV reached ¥141.2b in 2.5 years, fastest even in China.
Pinduoduo platform commenced operation in September 2015, with a 1P direct sales business model under the name of "Pinhaohuo" and a 3P model similar to Taobao under the name of "Pinduoduo". As the platforms scaled, the company decided to discontinue the 1P business and focus on the 3P platform Pinduoduo in 1Q17. Since then, the platform had entered a "crazy" expansion mode by leveraging the largest online traffic source in China – WeChat, a mobile community with over 1 billion MAU. In the 12 months ended March 2018, the platform generated a GMV of ¥198.7 billion, almost 10x of the same period ended March 2017 and is about 1/5 of that of JD and 1/25 of BABA.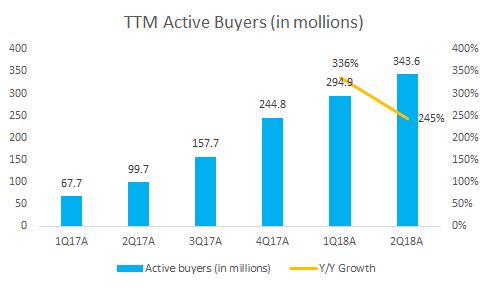 Source: PDD IPO filings.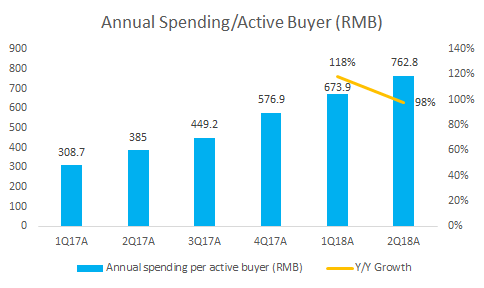 Source: PDD IPO filings.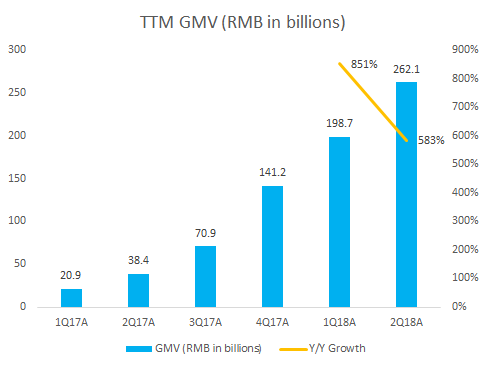 Source: PDD IPO filings.
3P marketplace model provides monetization potential similar to Taobao.
PDD monetizes through a similar model to BABA's Taobao, by charging commissions and selling advertising services to merchants on its platform. According to its IPO filings, PDD generated ¥141.2b GMV and ¥1.7b revenue in 2017, implying a blended take rate of 1.2%, and we should note that this percentage has been trending up, in the 12 months ended March 2018, GMV was ¥198.7b, with revenue of ¥3.1b, representing a higher blended take rate of 1.6%. Furthermore, in 1Q18 (2Q revenue not disclosed yet), with ¥66.2b GMV and ¥1.4b revenue, the blended take rate expanded to 2.1%. For comparison, for the FY ended March 2018, ¥4,820b GMV transacted on BABA's platforms (Taobao + Tmall), yielded combined advertising + commission revenue of ¥160.8b, implying a blended take rate of 3.3%. Thus, we see the potential for PDD's take rate to reach BABA level in the next couple years.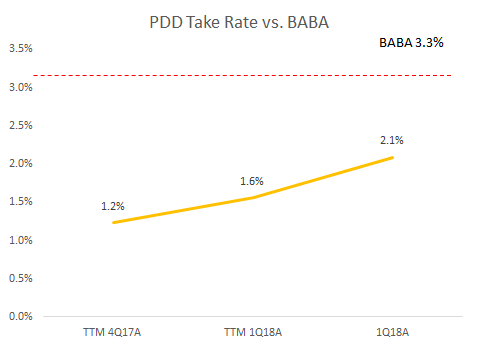 Source: PDD IPO filings.
Most cost-efficient customer acquisition model.
PDD utilizes a "team purchase" model which offers "team purchase discounts" when multiple buyers make purchases as a group (they don't need to know each other). And users are welcome to share their intentions to "team purchase" certain products and encouraged to share product info on social networks such as WeChat (over 1 billion MAU as of 1Q18) and QQ (MAU close to 700 million as of 1Q18). Thus, users are motivated to promote the Pinduoduo platform on themselves in order to take advantage of the team purchase discount. Using Sales & Marketing Expenses/MAU net adds as a proxy for customer acquisition cost (NASDAQ:CAC), PDD is much more cost-efficient compared with its competitors. Even though CAC increased from ¥11.79 in 4Q17 to ¥48.3 in 1Q18, it is still attractive vs. BABA at ¥206.5 and JD at ¥375.4.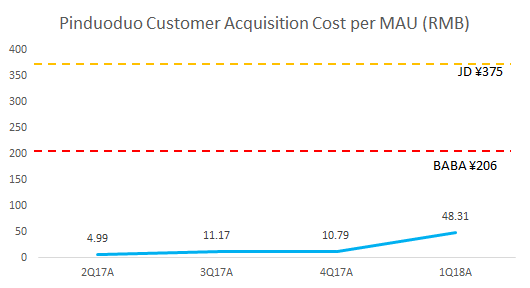 Sources: PDD IPO filings; BABA and JD press releases.
Potential challenges include consumption upgrade trend and competition from BABA & JD.
According to the Chinese National Bureau of Statistics, disposable income per capita in 2017 was 2.1x of that in 2010 and is still growing at ~8% y/y (not adjusted for inflation). With this trend, consumers are giving more weights on quality/brand vs. prices when making purchase decisions. However, Pinduoduo platform is filled with low-price, and often low-quality products. Whether PDD's model will succeed under this backdrop of consumption upgrade in China or it will evolve over time to provides more high-quality products at attractive prices, still remains a question to be answered. And competing with more developed and well-funded ecommerce companies such as BABA and JD could be challenging, especially if PDD try to penetrate the higher-end market. But we do note that with Tencent as one of PDD is investors (18.5% ownership prior to IPO), this risk should be mitigated to some extent.
Figure: Inflation-adjusted Disposable Income Per Capita Growth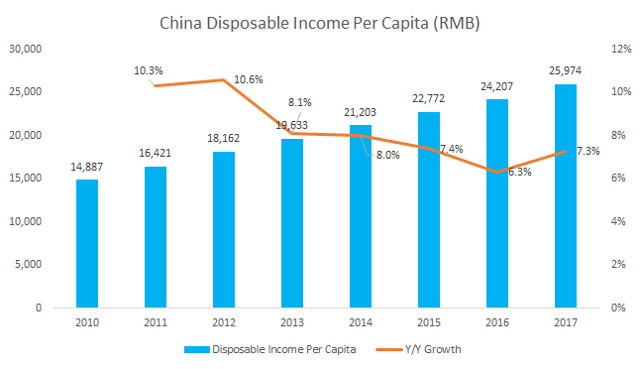 Source: Chinese National Bureau of Statistics.
Valuation
Please note it is quite unreliable to forecast a young company's financials when it is still in high-growth stage and spending an amount larger than revenue to fund future growth. However, assuming 2018E revenue of ¥6.9b (300% y/y), and 2019E revenue of ¥11.4b (64% y/y), current price implies 24x EV/2018 revenue and 15x EV/2019 revenue. More detailed analysis at the end of the article.
Company Overview
Pinduoduo is the 3rd largest ecommerce platform in China based on GMV. And it achieved this in only 2.5 years. In the 12 months ended March 2018, the company generated GMV of ¥198.7b GMV, roughly 1/5 of JD and 1/25 of BABA. The ecommerce platform is characterized by low-price products, team purchase model, and social sharing element. Since launched in September 2015, the platform rapidly attracted users and grew BMV by encouraging users to share their team purchase intention in other internet communities such as WeChat and QQ, both belonged to the Chinese internet giant Tencent. By leveraging these huge traffic pool, PDD was able to grow annual active buyers and GMV faster than any other ecommerce platforms in Chinese history.
The company historically had a 1P model similar to JD, meaning PDD owned the inventory and assumed the delivery obligations of products sold. However, because PDD was growing so fast and soon found themselves unable to take care of all the orders, in 1Q17, they decided to cease the 1P business and transfer to a 3P model similar to BABA. Now PDD monetizes through charging commissions and providing marketing services to merchants on the platform, which is booked under the "online marketplace services" (OMS) revenue line. The online marketplace services revenue grew from ¥33.6m in 1Q17 to ~¥1.4b in 1Q18, a ~40x expansion.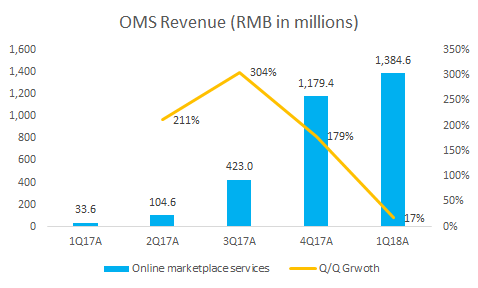 Source: PDD IPO filings.
Pinduoduo App Homepage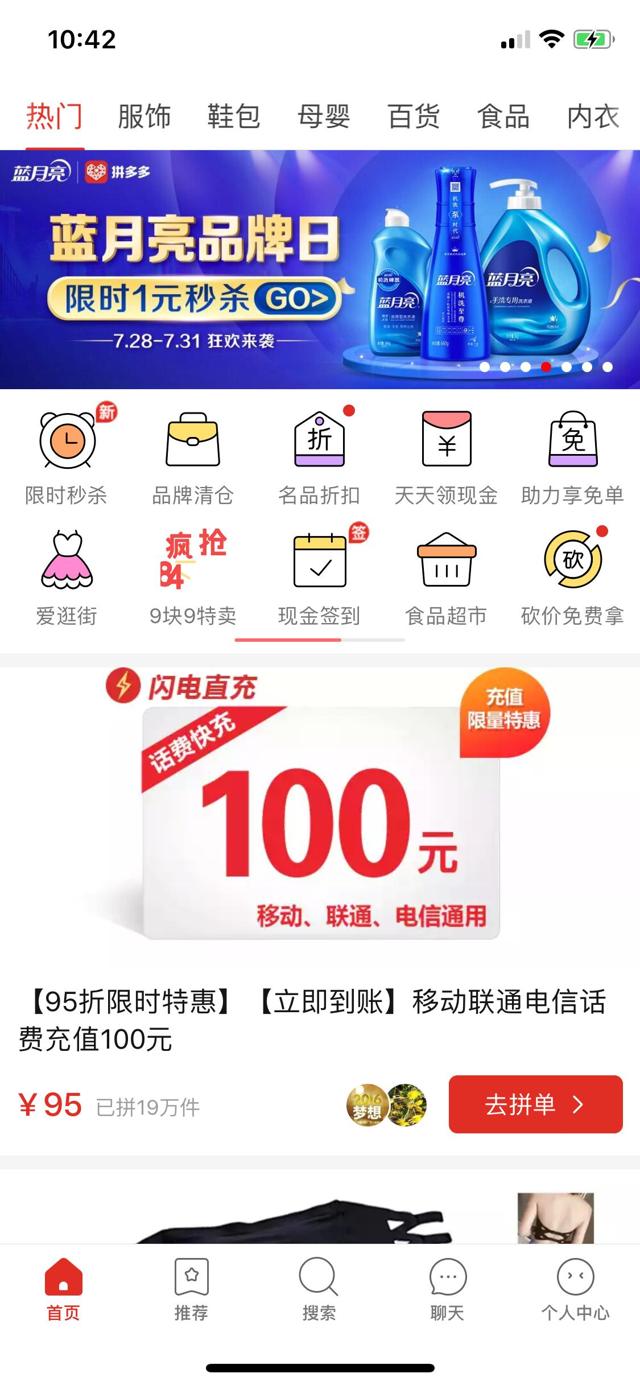 Example Product Page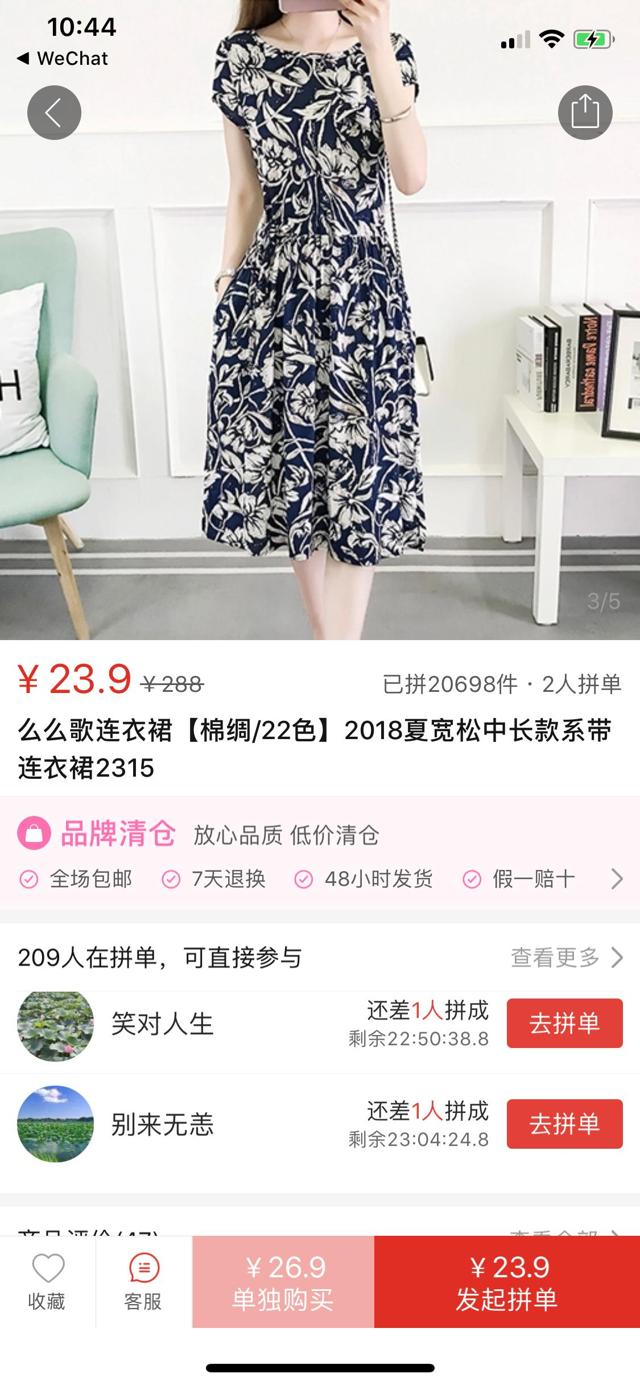 Tencent Cooperation
In addition to being the second largest shareholder of PDD, Tencent also entered a strategic cooperation with Pinduoduo in Feb 2018. Most importantly, Tencent agreed to provide Pinduoduo a traffic gateway within the WeChat, under WeChat Wallet so WeChat users can be directed from WeChat Wallet to Pinduoduo app. Moreover, PDD and Tencent will also be cooperating in areas such as payment, cloud service, and user engagement and Tencent agreed to charge PDD the payment processing fee no higher than the normal rate charged to third parties.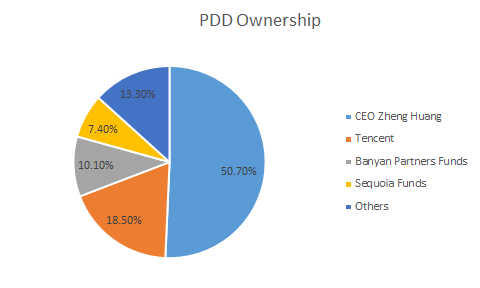 Source: PDD IPO filings.
Figure: Pinduoduo Traffic Gateway Under WeChat Wallet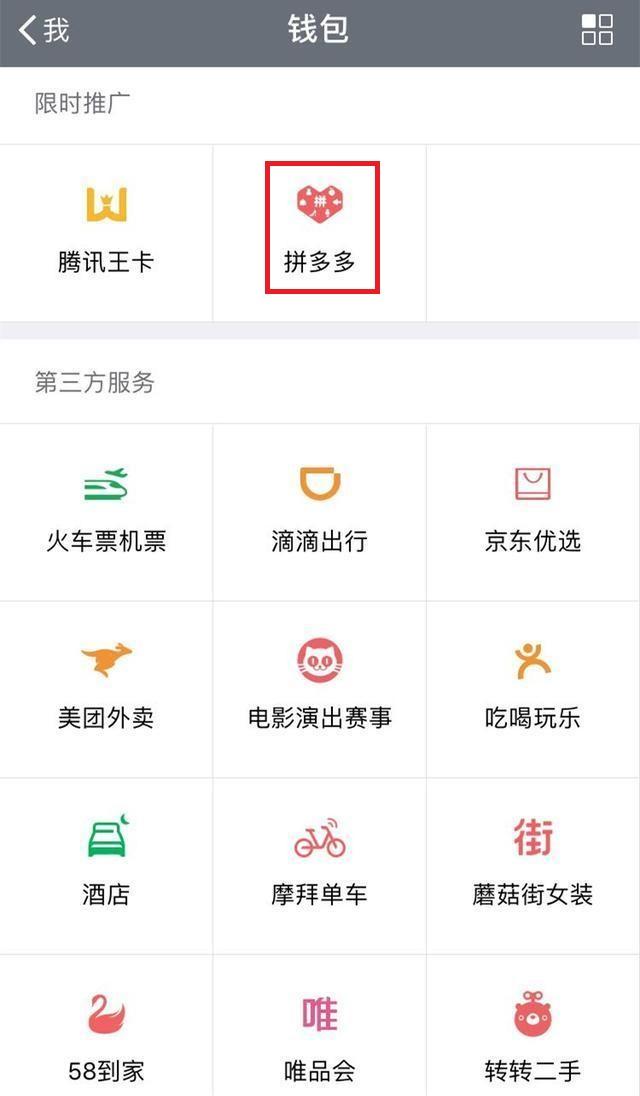 Counterfeit products
Investors should realize that as a 3P platform, Pinduoduo is not directly managing what is being sold on the platform. And sometimes 3P merchants to attract customers with low price, they put counterfeit products on the platform. However, PDD will still be held responsible if brands decide to sue the company for not carefully managing the counterfeit issue on the platform. In fact, one of the largest TV manufacturers in China, Skyworth, is already in talks with PDD regardings the counterfeit Skyworth TVs being sold on PDD (Source). And Pinduoduo is recently sued in the US by a diaper manufacturer called Daddy's Choice for knowingly allowing knockoff products being sold on Pinduoduo (Source). It is not surprising to see an ecommerce platform growing so fast by attracting price-sensitive consumers have such issue, but whether PDD will be able to solve this problem will remain a key to its further growth.
Low tier cities might be reaching a cap soon, while under-penetrating in top-tier cities.
Characterized by low-price products, PDD successfully obtained a large user base mainly consists of people who live in low tier cities and care about price more than quality. However, to catch up with BABA and JD in terms of annual spending per active buyer, more top-tier consumers might be necessary. Pinduoduo probably already realizes this and since late 2017, it has been purchasing brands marketing ads on large TV channels and online video platforms, resulting in a sharp increase in sales and marketing expenses.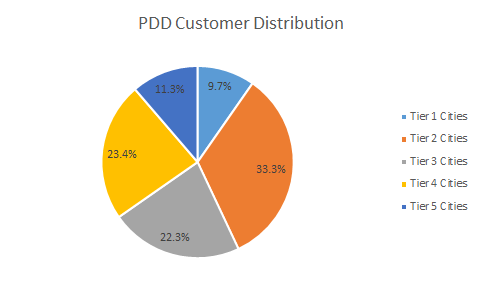 Source: iResearch.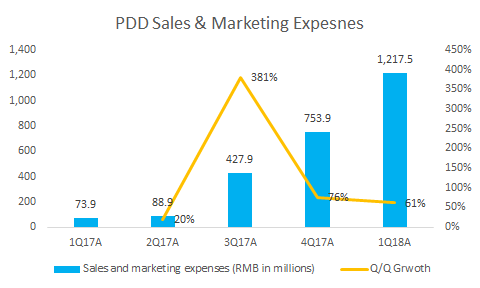 Source: PDD IPO filings.
Valuation
Before we go into the forecast, please note it is extremely unreliable to do estimates for a young company in high-growth stage and when its strategy is somewhat unclear. Too many factors could significantly impact the value of the company and this valuation should only serve as potential outcomes.
Base case: Moderate slowdown of key metrics and moderate take rate expansion.
Assuming 60%/20% annual active buyer growth in 2018/2019, and reach 392m/470m by the end of 2018/2019; assuming 40%/25% annual spending per active buyer growth in 2018/2019, namely ¥808/¥1,010 by the end of 2018/2019. We arrive at ¥316b/¥475b GMV in 2018/2019. Further assume 2018/2019 take rate of 2.2%/2.4%, implying moderate expansion from 2.1% in 1Q18. Then we have 2018/2019 revenue of ~¥6.9b/¥11.4b, implying 24.0x/14.7x 2018/2019 E/S.
Bull case: If PDD is able to continue to grow users at a rapid pace, and successfully increase spending per user by either encouraging user to put more orders or raising the value per order or both and is able to reach a monetization level of BABA by 2019.
Assuming 70%/30% annual active buyer growth in 2018/2019, and reach 416m/541m by the end of 2018/2019; assuming 50%/35% annual spending per active buyer growth in 2018/2019, namely ¥865/¥1,168 by the end of 2018/2019. We arrive at ¥360b/¥632b GMV in 2018/2019. Further, assume 2018/2019 take rate of 2.8%/3.3%. Then we have 2018/2019 revenue of ~¥10.0b/¥20.8b, implying 16.5x/8.1x 2018/2019 E/S.
Bear case: If PDD is unable to continue to grow users at a rapid pace, and increase spending per user at a slower pace and take rate go back to 2017 level.
Assuming 40%/10% annual active buyer growth in 2018/2019, and reach 342m/377m by the end of 2018/2019; assuming 30%/15% annual spending per active buyer growth in 2018/2019, namely ¥750/¥862 by the end of 2018/2019. We arrive at ¥257b/¥325b GMV in 2018/2019. Further, assume 2018/2019 take rate of 1.9%/1.9%. Then we have 2018/2019 revenue of ~¥4.9b/¥6.2b, implying 33.8x/27.0x 2018/2019 E/S.
Conclusion
When investors like the fact that PDD was able to rapidly become the third largest ecommerce platform in only 2.5 years, investors should be cautious about the current valuation until the company puts out some earnings and proves its capability to continue to expand without material slowdown.
Can China's fastest growing e-commerce startup find similar success in Southeast Asia?
Editor's note: This was contributed by Sheji Ho, the Group Chief Marketing Officer at aCommerce, an end-to-end e-commerce enabler in Southeast Asia. Currently based in Bangkok but having previously worked in China, Sheji writes about e-commerce, tech, the internet, and how Southeast Asia is the next China.
Pinduoduo, or PDD, is a social commerce app founded by Colin Huang, an ex-Google engineer, in September 2015. Only a couple of years old, PDD has become the fastest growing e-commerce company in China. It raised $100 million in 2017, is backed by China's Banyan Capital and Tencent, and valued at a whopping $1.5 billion.
As of Feb 21, 2018, PDD ranks #3 overall in the Chinese iTunes app store ranking for free apps, after popular apps like Tik Tok (aka Douyin) and WeChat, and ahead of other shopping apps like Taobao. PDD went from 100 million yuan ($16 million) GMV a month in early 2016 to 4 billion yuan ($630 million) GMV a month by 2017, putting it in fourth place behind Alibaba, JD, and Vipshop.
How does Pinduoduo work?
Users can download the PDD app or access it within WeChat. Like any e-commerce platform, PDD offers products across a wide range of categories from food to fashion. However, unlike Tmall and JD, PDD incentivizes users with discounts to invite friends to buy in groups.
For example, one container of Similac Advance Infant Formula Powder costs RMB 59 if you buy alone but only 35.5 yuan if you can get one other person to buy it too. In the screenshot below, a total of 1,822 pairs have "group-purchased" this item already.
In addition to group discounts, PDD also incentivizes customer acquisition. Getting users to follow the PDD WeChat Official Account, install the app, and sign up via WeChat login will earn them free products.
PDD also offers cash hongbao worth RMB5-20 to users for each friend they get to download the app and register. The entire system is then gamified through a public leaderboard.
Wait, is this new? Didn't Groupon invent social commerce?
Groupon did arguably pioneer the group buying concept. In its early days, a certain number of users had to sign up for the same deal in order for everyone to receive the voucher. But unlike PDD, there wasn't a direct incentive; users had to sit back and wait for anonymous users to tip the scale.
This mechanism was quickly abandoned to scale faster with minimum thresholds that acted more like gimmicks.
Groupon was labeled "social commerce" at first but in its later years, lost its social aspect.
Let's take a step back and look at the definition of social commerce, according to ConversionXl:
"Social commerce is defined as the ability to make a product purchase from a third-party company within the native social media experience."
Groupon emerged in the pre-mobile age of 2008 when most consumers still transacted via desktop, especially in the company's US home market. Back then, less than 1% of e-commerce transactions were via mobile acquisition channels.
In addition, the company's main distribution channel was email newsletters, a slow and high-friction medium and payments weren't seamless either as users relied on a credit card or PayPal.
Now looking at 2016 in China—PDD's first full year in operation—WeChat was the country's dominant "super app" and leading medium to socialize online with 889 million Monthly Active Users (MAUs) by year-end.
71% of e-commerce now takes place on mobile, creating a flattering backdrop for the rapid rise of PDD, which started out as a mini program on WeChat.
Paying for products on PDD is also remarkably easy because the app makes it automatic. After the first payment, users can opt for one-click payment via WeChat Pay that doesn't require passwords.
Desktop usage, clunky email newsletters, and credit card payments limited Groupon's true social commerce potential. Where Groupon failed, PDD is succeeding because of an ecosystem of mobile-first users and WeChat's features that make it a super app.
Will PDD come to Southeast Asia?
Why not? Southeast Asia e-commerce is already being carved up by Alibaba and Tencent. Lazada and Tokopedia, two companies owned and invested in by Alibaba, dominate the B2C and C2C space at one end and Tencent-invested JD, Shopee, and Go-Jek are at the other end.
With Southeast Asia's horizontal e-commerce market being consolidated into a few properties like Lazada, Tokopedia, JD, and Shopee, there isn't as much opportunity in the space as before.
New e-commerce players have to focus on dominating a specific, vertical category or provide a competitive advantage through means other than outspending peers in advertising and/or coupon subsidies.
This is where a model like PDD fits snuggly.
It also helps that one of PDD's biggest investors is Tencent, which already has its eyes set on the rapidly growing Southeast Asian market.
Will the PDD business model work in Southeast Asia?
To determine if the PDD model would work in the region, we need to identify the criteria that were conducive to its success in China:
Lack of distribution channels / expensive distribution channels
If you strip away all the hype, PDD's competitive advantage is in its customer acquisition strategy. Instead of relying on expensive channels like display advertising or paid search (e.g. Baidu ads), PDD is paying its users to get more users. For example, CPCs alone on Baidu can range from 5 to 25 yuan. Note these are clicks, not even users acquired.
Southeast Asia (excluding Singapore and Malaysia) is very similar to China in terms of lack of channels, due to a similar "no-tail" ecosystem. Whereas entrepreneurs in China had to pick their poison between Baidu, Sina and Sohu back in the day, startups in emerging Southeast Asia are limited to Facebook Ads, Google Search, and portals like Detik in Indonesia and Sanook in Thailand.
Early entrants like Lazada took advantage of low cost-per-clicks (CPCs) back in 2013 but given the raging e-commerce "bloodbath", online ad CPCs have gone through the roof.
Having saturated online channels, Lazada started exploring offline advertising channels like TV and out-of-home media.
Others like Pomelo Fashion tapped into physical stores as a more cost-efficient way to acquire users and simplify last-mile logistics.
PDD social and viral customer acquisition strategies could work quite well.
High mobile commerce penetration
The majority of e-commerce transactions in China now take place on mobile. In 2016, 71% of e-commerce GMV was on mobile. In the US, this number was only 20% in 2016.
In Southeast Asia, companies like Lazada and Shopee today see over 65% of their orders coming from mobile (with 21.6% using both mobile and desktop to shop), according to a recent survey by ecommerceIQ.
Needless to say, high mobile penetration in Southeast Asia along with high mobile e-commerce usage will provide a fertile ground for a business model like PDD to gain traction here.
Frictionless mobile payments
One of the drivers of PDD's success is its seamless payments through WeChat Pay.
This will be a challenge for PDD in Southeast Asia as only Singapore and Malaysia are credit card dominated whereas the rest of the region is mainly a cash-on-delivery market.
Despite efforts to come up with a universal mobile payment standard, no one has succeeded as of today. Efforts like Sea's AirPay, Ascend's True Pay, and LINE Pay have hit a wall due to lack of distribution, lack of use case, and a plethora of other issues.
Right now, most eyes are on Go-Jek's Go-Pay, which has a massive distribution channel by leveraging Go-Jek's 40 million install base and 10 million Weekly Active Users (WAUs). In addition, and more importantly, Go-Jek addresses emerging Southeast Asia's unique lack of both credit card and bank account penetration — users are able to top up their Go-Pay accounts by handing cash to Go-Jek drivers that essentially act like mobile ATM deposit machines.
While still a poor man's WeChat Pay, Go-Pay offers hope for business models like that of PDD to thrive in Southeast Asia.
Attachment to popular social platform
Without the WeChat ecosystem, PDD wouldn't have been the company it is today. Being embedded in WeChat, PDD was able to quickly get massive distribution by tapping into the potential 889 million MAUs of WeChat.
In Southeast Asia, Facebook, Instagram, WhatsApp, and LINE are highly popular, however, none are considered super apps that offer seamless integration.
The closest to WeChat in Southeast Asia would probably be Indonesia's Go-Jek.
While Go-Jek hasn't entered e-commerce yet (it's positioned only as a services marketplace and offers delivery for partners through its GO-MART product), it wouldn't be surprising if PDD decided to leverage the Go-Jek platform, given the similarities to WeChat in China. Like PDD, Go-Jek also counts Tencent as an investor.
With an estimated third of e-commerce in markets like Thailand happening on Facebook, Instagram and LINE, the user behavior of buying through social channels already exists.
Access to cheap product sourcing
If you browse through PDD, you'll notice that most of the products sold bear similarities to many of those sold on Taobao. In other words, a lot of "mass" and non-branded products. PDD thrives in China because of easy access to a supply of these products manufactured locally.
However, in Southeast Asia, these kind of products (typically sold on social media and C2C platforms) are imported from China, which leaves less margin for PDD to play with in terms of discounts and customer acquisition.
To sum up, emerging Southeast Asia meets several of the criteria behind PDD's success in China but poses some unique challenges:
PDD success drivers: China vs. Emerging Southeast Asia
What will happen next?
In the analysis, we've identified some of the drivers of PDD's rapid rise in China and also their presence in emerging Southeast Asian markets at an earlier stage.
Given this opportunity, we can expect the following scenarios to play out over the next few months and years:
Local and Chinese entrepreneurs will launch PDD clones across the region
Ever since opening up to the world in the 80s, we can describe China having gone through the following three stages, with the third one still progressing as we speak:
Made-in-China (1980-2000)
China perceived as manufacturing base for (often cheap, low-quality) export products
Copy-to-China (2000-2015) Chinese entrepreneurs, some foreign educated, bring back models that worked in the US, e.g. Search (Google -> Baidu), Portals (Yahoo -> Sina, Sohu)
Copy-from-China (2015-2030) Birth of unique Chinese Internet business models (e.g. dockless hire bikes, payments, live streaming, social commerce, O2O). Increasing media focus on Chinese tech innovation and locals outside of China looking for Chinese models to copy
We are witnessing stage 3 happening right here in Southeast Asia. Below is a Thai post on Facebook looking to recruit staff to work on what looks like a PDD clone:
It doesn't have to be local talent copying PDD from China to Southeast Asia. With the influx of Alibaba, Tencent and JD into the region, there are plenty of Chinese employees who'll be noticing the similarities between Southeast Asia today and China, and jump on new opportunities.
PDD will enter Indonesia through Go-Jek (helped by common investor Tencent)
If PDD were to follow Alibaba and Tencent's steps and enter Southeast Asia, we expect them to join forces with Go-Jek. By embedding itself inside Go-Jek, PDD is executing the same game plan that led to its rapid initial growth within the WeChat ecosystem. Fostered by a shared investor–Tencent–Go-Jek would be the perfect launch partner for PDD in Southeast Asia.
Existing players will adopt the PDD business model to compete against horizontal e-commerce plays
Local e-commerce players like MatahariMall, Konvy, and Orami could pre-empt PDD by adopting its customer acquisition strategies to compete with regional giants like Lazada and Shopee.
For Konvy and Orami, two female-focused e-commerce platforms, this move could make a lot of sense since the majority of PDD's users in China are female, over 40 years old, and living in smaller cities.
Play on players.
8 lesser known e-Commerce platforms in China like Pinduoduo and Sunning that foreign companies can leverage
Aside from famous players like Taobao, are there any other e-commerce platforms that international brands can leverage in China? The answer is yes!
China has the largest e-commerce market in the world and it is still growing. According to the China E-commerce Report, in 2017, the total value of Chinese online trading had reached 29,160 billion CNY, which occupied 40% of the global e-commerce market and up 11.7% compared with 2016. During the same period, the value of online retail reached 7,180 billion CNY in China, up 32.2% compared with 2016. More and more e-commerce platforms have been built in China to leverage the ever growing userbase, and beside big players like Tianmao (天猫), Taobao (淘宝) and JD (京东), mobile e-commerce platforms such as Pinduoduo (拼多多), Xiaohongshu (小红书), Kaola.com (网易考拉) are also popular among Chinese consumers. For international brands that want to enter the Chinese market by e-commerce, those online shopping platforms are another kind of important channels.
Source: China E-commerce Report 2017
---
Pinduoduo (拼多多): The representative of online group shopping in China
Pinduoduo (拼多多) is one of the most popular e-commerce platforms among Chinese consumers. In 2015, Pinduoduo officially launched as a mobile e-commerce platform in China and became one of the fastest-growing online platforms for its new business model. According to the data from the official website of Pinduoduo, by the end of 2017, the users of Pinduoduo app have exceeded 0.3 billion.
Group shopping is the main purpose of Pinduoduo that attracted many Chinese customers online. On Pinduoduo, customers can choose group orders for all kinds of good, then buyers can achieve relatively low price. Based on group orders, the platform will make a large number of orders directly from manufacturers and get quantity discounts from them.
For international brands that want to open stores on Pinduoduo, there are some advantages and restrictions of the platform that should be noted:
---
Kaola.com (网易考拉): The leading integrated e-commerce platform in China
Kaola.com (网易考拉) is the leader among online cross-border retail platforms in China. In January 2015, Kaola.com officially launched as a cross-border e-commerce platform by NetEase. The business model of Kaolao.com is direct purchasing with self-operated, or operated by third-party merchants on the platform. According to our findings based on research from "iiMedia Research" (艾媒咨询), in 2017, Kaola.com held the largest market share (25.8%) of China's cross-border e-commerce platforms. In 2016, the platform was ranked first in the survey on users' satisfaction of China cross-border e-commerce self-operating platforms. In 2018 Q1, Kaola.com kept the largest market share (26%) among China's cross-border e-commerce platforms.
Source: 2018 Q1 China cross-border e-commerce monitoring report
For international brands that want to enter China through e-commerce platforms, Kaolao.com has obvious advantages and a few restrictions:
---
Xiaohongshu (小红书): The combination of online shopping and life-sharing community
Xiaohongshu(小红书) has become one of the most important online shopping platforms in China by combining life-sharing community and shopping. The platform was launched in 2013 and achieved the first position in the App store list of China in 2015. By the end of October 2017, the number of the platform's users already exceeded 70 million.
For most users in China, Xiaohongshu is not only a shopping platform but also a social platform. On the platform, users can introduce any product by using photos and communicate with other users through comments. By using the community to share the purchase and use experience, Xiaohongshu attracted many female buyers who want to satisfy vanity and get suggestions about some products.
Source: Detailed analysis: Why Xiaohongshu is so popular
For international brands that want to open stores on Xiaohongshu, some advantages and restrictions of the platform should be known:
---
VIP.com (唯品会): The largest flash sale site in China and the whole world
VIP.com (唯品会) is the biggest online flash sale platform with almost 10 years of history in China. The platform has pioneered the online discount retail model in China and had 57.8 million active users during the whole year of 2017. At the same time, the repurchase rate reached 84% on VIP.com. In the 2018 Q1 China cross-border e-commerce monitoring report, VIP.com took 12% market share of cross-border e-commerce platforms in China, which was the No.4 among all platforms. Besides, based on the data from the official website of VIP.com, the platform already owned 13,000 well-known domestic and global vendors and suppliers.
Source: VIP.com Q4 financial report
For international brands that want to become one of the platform's partners, it's helpful to understand some advantages and restrictions from VIP.com:
---
Suning.com (苏宁易购): The comprehensive B2C online shopping platform in China
Suning.com (苏宁易购) is one of the leading platforms in the area of China's B2C shopping. In 2017, the net income of Suning.com was 4.21 billion CNY, up 236.52% compared with 2016. During the same year, the number of registered users reached 0.345 billion on Suning.com.
For international brands that want to open stores on Sunung.com, it is necessary to understand its advantages and restrictions:
---
Juanpi.com (卷皮网): One of China's most popular online discount shopping platforms
Juanpi.com (卷皮网) is the first domestic e-commerce platform that focuses on par goods market in China. Through its unique model of "Par retail" (平价零售), Juanpi.com has become one of the largest unlisted e-commerce platforms in China. Between 2016 and 2017, the number of platform's users has exceeded 100 million and 80% of them are female. On Juanpi.com, a lower price is the main point that attracts Chinese consumers, the average price of every product is around 100 CNY and 50% products come from small and medium brands.
For international brands that want to open stores on Juanpi.com, it is necessary to understand its advantages and restrictions:
---
DangDang.com (当当网): China's first B2C E-mall that fully based on online business and listed in the USA
DangDang.com (当当网) is one of the oldest e-commerce platforms launched in 1999. The platform starts as an online bookselling website and achieved 35.1% of China's online book retail market in 2017. Now, Dangdang.com already expanded its business from books to all kinds of products. Among them, the main business focuses on books, Maternity & Baby, Beauty Cosmetics and home textiles. During 2017, the net revenue of DangDang.com was around 0.36 billion CNY.
For international brands that want to open stores on DangDang.com, there are some advantages and restrictions of the platform should be noticed:
---
Mia.com (蜜芽): China's first online flash sale platform for imported Maternity & Baby brands
Mia.com (蜜芽) is the largest e-commerce platform that sells imported maternity & baby products in China. Now, according to the data from the official website of Mia.com, there are 1300 brands built cooperation with Mia.com and the users of the platform exceeded 30 million. On the platform, 70% of products are imported from foreign countries. In the list of 2016 users' satisfaction for China's cross-border import e-commerce, Mia.com was ranked first among all competitors.
For international brands that want to become one of the partners of Mia.com, it's helpful to understand some advantages and restrictions:
---
China's e-commerce platforms are good options for international brands
China's e-commerce platform started from 1999, but there were few platforms became popular among Chinese people. Now, after 20 years of development, China owned a large number of e-commerce platforms that can be divided into different types like B2B, online retail, life services, cross-border and etc. For international brands that want to enter China through e-commerce platforms, through the comparison of following platforms, it is helpful to make a better option.
Vì sao Pinduoduo có thể đột phá trên thị trường TMĐT Trung Quốc dù đã có Alibaba và JD?
Từ Alibaba đến JD, Trung Quốc không thiếu các thế lực thương mại điện tử. Tuy nhiên, startup vẫn có cơ hội đột phá miễn là họ đưa ra giải pháp cho đúng nhóm khách hàng.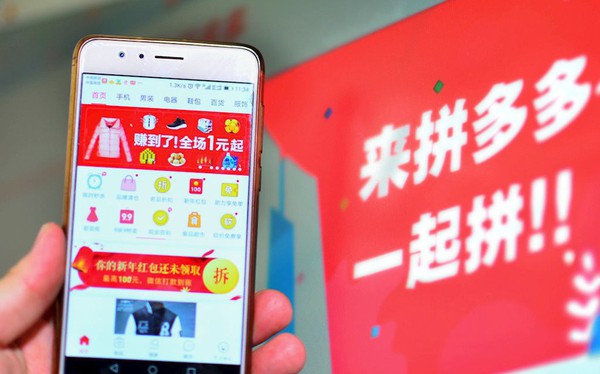 Pinduoduo là gì?
Pinduoduo là minh chứng rõ rệt nhất. Công ty có trụ sở tại Thượng Hải đã lên sàn chứng khoán Mỹ năm 2018 và huy động thành công 1,6 tỷ USD qua đợt IPO. Sự "phất" lên nhanh chóng của Pinduoduo chỉ trong 3 năm là hiện tượng thú vị, nhất là khi bức tranh thương mại điện tử (TMĐT) Trung Quốc đang bị thống trị bởi hai ông lớn Alibaba và JD.
Tương tự Taobao của Alibaba và JD.com của JD, Pinduoduo là nền tảng TMĐT cung cấp nhiều sản phẩm thuộc nhiều danh mục khác nhau. Điểm độc đáo của nó nằm ở việc kết hợp yếu tố mạng xã hội vào quy trình mua sắm trực tuyến truyền thống mà công ty gọi là mô hình "mua theo nhóm".

Khi chia sẻ thông tin sản phẩm Pinduoduo lên mạng xã hội như WeChat, QQ, người dùng có thể mời bạn bè hình thành một nhóm mua sắm để mua sản phẩm giá thấp hơn. Cơ chế này tạo động lực cho người dùng, kết hợp với các chương trình khác như tiền mặt, coupon, xổ số và hàng hóa miễn phí. Pinduoduo thu hút người dùng với chi phí rất thấp, nhanh chóng trở thành hiện tượng lan tỏa tại Trung Quốc.
Giá siêu rẻ cũng là một yếu tố thu hút khác của nền tảng. Sản phẩm có thể giảm giá tới 90%, từ ga trải giường cho đến máy tính. Song, các mặt hàng bán chạy nhất lại là đồ dùng hàng ngày với giá không thể tin nổi. Chẳng hạn, hơn 6,4 triệu giấy vệ sinh được bán với giá chỉ 1,9 USD cho 10 hộp và 4,8 triệu chiếc ô được bán với giá chỉ 1,51 USD/chiếc.
Giao diện Pinduoduo (trái) và Taobao (phải)
Mô hình bán buôn của Pinduoduo dễ dàng tạo ra các đơn hàng lớn cho người bán và cho họ khoảng trống để giảm giá. Giao diện ứng dụng giống với News Feed của mạng xã hội, tập trung vào một mặt hàng cụ thể và tạo ra mặt hàng có tính lan tỏa. Mô hình C2B cho phép giao hàng trực tiếp từ nhà sản xuất, loại bỏ các khâu trung gian, không chỉ giảm giá cho người mua mà còn tăng lợi nhuận cho nhà sản xuất. Cách tiếp cận này tương đối hiệu quả khi bán cá mặt hàng tươi sống và nông nghiệp, nơi tốc độ kết nối cung cầu vô cùng quan trọng.
Các thương hiệu kém nổi hơn được lựa chọn để xóa bỏ chi phí từ thương hiệu. Ngoài ra, chi phí quảng cáo và tiếp thị cũng giảm nhờ người dùng chia sẻ trên mạng xã hội. Cách tiếp cận vừa rẻ vừa hiệu quả. Thông qua chia sẻ cộng đồng, người dùng gửi thông tin sản phẩm đến cho bạn bè hay các nhóm tương đồng về mức thu nhập và thị hiếu tiêu dùng.
Giá rẻ và tính năng xã hội không phải yếu tố duy nhất dẫn đến tăng trưởng thần tốc của Pinduoduo. Tìm ra đối tượng khách hàng mục tiêu là mảnh ghép cuối cùng dẫn đến điều này. Taobao có hơn 500 triệu người dùng, còn WeChat có hơn 1 tỷ người dùng. Số chênh lệch nằm ở các thành phố cấp ba hoặc thấp hơn. Công dân tại đây mới bắt đầu lên mạng và phụ thuộc vào WeChat như nguồn thông tin chính. Đây chính là khách hàng mục tiêu của Pinduoduo.
Dữ liệu từ viện nghiên cứu Jiguang chỉ ra người dùng từ thành phố cấp ba và thấp hơn chiếm khoảng 65% nền tảng người dùng Pinduoduo, trong khi người dùng của JD nằm ở các thành phố cấp một, cấp hai. Ngoài ra, phụ nữ chiếm 70% người dùng Pinduoduo. Họ phụ trách mua sắm cho gia đình và nhạy cảm với giá hơn.
Nếu như Taobao và JD dẫn đầu làn sóng toàn cầu hóa, nơi mà khách hàng Trung Quốc sẵn sàng chi nhiều hơn để đổi lấy chất lượng tốt hơn thì Pinduoduo ngược lại. Thu nhập cao khiến người dân tại các thành phố cấp một cấp hai hào phóng hơn song sự chênh lệch 1 tệ cũng đủ để khiến người dân khu vực nông thôn lựa chọn nhà cung cấp khác.
Giá vẫn là yếu tố quan trọng nhất đối với người tiêu dùng. Giá cao hơn không đồng nghĩa với chất lượng thấp hơn và ngược lại. Đó chính là lý do vì sao Taobao ra mắt Taobao Tejia dành cho người dùng thu nhập thấp hơn.
Phải nói thêm rằng Pinduoduo không phát minh ra mô hình thương mại điện tử cộng đồng mà chính là Groupon tiên phong vài năm trước. Song, Pinduoduo lại thành công nhờ hệ sinh thái mới bao gồm siêu ứng dụng WeChat, cơ sở hạ tầng thanh toán di động và người dùng ưu tiên di động.
Lịch sử và cột mốc quan trọng của Pinduoduo
Thành lập tháng 9/2015, Pinduoduo là startup thứ tư của Colin Huang, cựu kỹ sư Google. Với kinh nghiệm trong TMĐT và game, Huang thành lập Pinduoduo với sứ mệnh kết hợp bí quyết thành công của cả Alibaba lẫn Tencent, hai gã khổng lồ Internet Trung Quốc về TMĐT và game/mạng xã hội.
Dường như Huang đã đúng khi kết hợp cả hai. Tổng giá trị giao dịch (GMV) hàng năm của Pinduoduo vượt mốc 100 tỷ nhân dân tệ (14,7 tỷ USD) năm 2017, chỉ hai năm sau khi ra đời. Để chạm mốc này, Taobao mất 5 năm, VIP.com mất 8 năm và JD mất 10 năm. Nền tảng tuyên bố có hơn 343,6 triệu người mua với GMV 262, 1 tỷ nhân dân tệ (38,5 tỷ USD).
Bước ngoặt lớn xảy ra trong quý III/2017 khi tỉ lệ hoạt động tuần, tỉ lệ đăng ký và mở ứng dụng Pinduoduo tất cả đều vượt JD. Giai đoạn 2017-2018, công ty đạt tăng trưởng 1.000%, theo dữ liệu từ Jiguang.
Pinduoduo cũng nhận được các khoản đầu tư khủng. 4 tháng sau khi Pinduoduo huy động vốn từ IDG và Lightspeed China trong tháng 3/2016, công ty lại được đầu tư 110 triệu USD trong vòng gọi vốn B từ Baoyan Partners, New Horizon Capital, Tencent… Tháng 4/2018, Pinduoduo hoàn tất vòng gọi vốn mới với 3 tỷ USD được huy động, nâng giá trị lên gần 15 tỷ USD.
"Thiên đường hàng giả" mới tại Trung Quốc?
Theo khảo sát mức độ thỏa mãn của người dùng TMĐT 2017 của Trung tâm nghiên cứu TMĐT Trung Quốc, tỉ lệ khiếu nại của Pinduoduo là 17,87% và mức độ thỏa mãn chỉ là 1 sao. Khiếu nại chủ yếu về chất lượng sản phẩm kém, giao hàng chậm, quảng cáo gây hiểu lầm…
Không chỉ có phàn nàn từ trong nước, Pinduoduo còn bị kiện vi phạm bản quyền tại Mỹ, chỉ một thời gian ngắn sau khi IPO. Khi Alibaba và JD đang nỗ lực loại bỏ hàng giả trên nền tảng, hàng giả hàng nhái lại tràn sang các nền tảng mới nổi như Pinduoduo. Sau khi trở thành công ty đại chúng, Pinduoduo phải làm theo các ông lớn khác để dọn dẹp nền tảng.
Theo báo cáo bảo vệ quyền lợi khách hàng thường niên năm 2017, Pinduoduo đã xóa 10,7 triệu mặt hàng có vấn đề, chặn 40 triệu liên kết ra bên ngoài đáng ngờ, đại diện cho 95% người bán hàng giả trên nền tảng. Công ty cũng mở quỹ trị giá 150 triệu nhân dân tệ để xử lý các khiếu nại sau mua hàng.
Tuy nhiên, thắt chặt quy định lại gây ra xung đột giữa Pinduoduo và người bán hàng. Tháng 6/2018, 14 chủ hàng trên Pinduoduo biểu tình tại trụ sở vì cho rằng công ty thực hiện hành động kiểm tra chất lượng sản phẩm không đúng đắn, gây thiệt hại cho họ.
Dù đã lên sàn NASDAQ và được định giá hơn 60 tỷ USD, các cổ đông vẫn lo lắng về giá trị căn bản của Pinduoduo. Về mặt tài chính, công ty lỗ ròng 292 triệu nhân dân tệ và 525,1 triệu nhân dân tệ trong hai năm 2016 và 2017. Hơn 88,4% doanh thu quý I/2018 được chi cho tiếp thị. Người dùng Pinduoduo điển hình là phụ nữ nhạy cảm với giá, sống tại các thành phố cấp thấp. Các chủ cửa hàng bán với giá thấp để thu hút nhóm người này nhưng làm thế nào để duy trì người dùng và đà tăng tưởng là thách thức lớn với Pinduoduo.
"Hãy cho tôi một điểm tựa, tôi sẽ nhấc bổng trái đất lên!" – Acsimet